Women bag more medals in Agricultural University of Sciences this year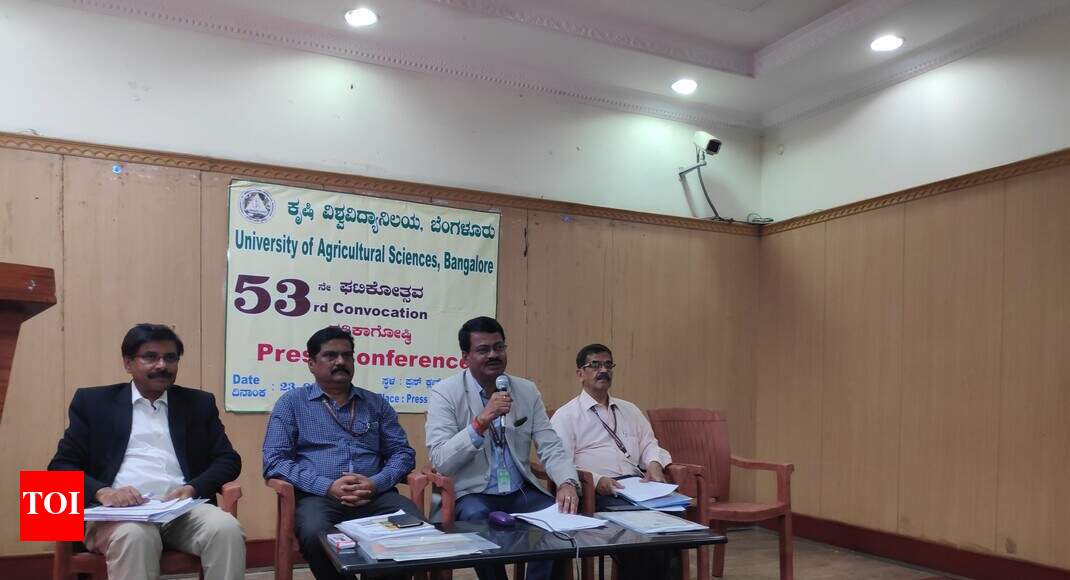 BENGALURU: The 53rd convocation of University of Agricultural sciences, Bengaluru (UAVS-B) will be held on Monday where as many as 1042 students will be graduated. The women students have emerged as the majority gold winners this year.
Addressing the media on Saturday S Rajendra Prasad, vice-chancellor of UAVS-B said, "a total of 1042 students are being conferred with various degrees, overall 21 Boys are sharing 39 Gold Medals while 40 Girls are receiving a total of 81 Gold Medals. Totally, 661 students will receive Bachelor's Degrees, 309 students with Master's Degrees and 72 students receive Doctoral Degrees. "
Professor Baladev Singh Dhillonji, vice-chanceloor of Punjab University, Ludhiana will be the chief guest of the even who will be delivering convocation address and governor of Karnataka Vajubhai Vala will be distributing the medals for the graduating students.
In PhD, eight women and six boys will be sharing 12 university medals, eight Donor's Gold Medals and four Donor's Gold Medals Certificates. Likewise, in masters programmes, 21 women and eight boys will be awarded with 20 university merit gold medals, four Campus Gold medals, 33 Donor's Gold Medals and eight gold medal Certificates.
In Undergraduate (UG) programmes, seven boys and 11 girls are sharing a total of 51 Gold Medals of which 7 are UAS-B Gold Medals, 03 Campus gold medals and 33 Donor's Gold Medals and eight donor's gold medal certificates.
Mahablaeshwar Hegde, registrar of the university said, among 76 agricultural universities across the country, Bengaluru's UAVS secured first position in ICAR-JRF awards 2018 wherein 56 students qualified for JRF under programme category of Agricultural Sciences and also secured Second Position with award of JRF to seven students under Engineering and Technology category.
He also said, University is planning to introduce paperless examinations by using "exam pad system" from the academic year 2019-20 to have more transparent and tamper proof examinations. This is a student friendly, environmental friendly and process friendly, enhancing accuracy, speed and quality of examinations and evaluations, besides reducing drudgery. There will be digital pads given to the students who will write on it which will be uploaded. The valuators will be given computers where they will evaluate answer sheets. It would be no different from normal examination but just that it would be paperless."
UAVS-B has five teaching campuses in Karnataka offering six UG, 22 master's degree including MBA (Agricultural Business Management) and 15 doctoral programmes.
Medal tally
PhD
Eight girls and six boys will be sharing 24 medals.

Master's degree

Eight boys and 21 girls will be sharing 65 medals.

UG programmes

Seven boys and 11 girls will be sharing 51 gold medals.